THE BALANCE AND POWER YOU NEED


—
Standard features provide operator safety and productivity. Options help you take the next step, enabling customisation that maximises productivity and cost efficiency on your jobsites. Avesco Premium rammers are technically advanced machines, adapted to help professionals be productive and safe.
What characterises light compaction equipment from Avesco?
Balanced weight distribution and good forward movement
Machine is easy to guide.
Large selection of rammer base plates
Makes machine a match for every application.
Long service life of engines and machines
Maximises value for operators and owners.
Low fuel consumption
One tank lasts for up to four hours of operation.
Flexible fuel selection
Both petrol and diesel engines are available.
Low hand-arm vibration values
Long machine use with no risk of Raynaud's syndrome ("white finger disease").
Open guide handle
Clear view of the base plate during operation; can operate from all sides.
Height-adjustable machine and handle
Guide pipe and guide handle can be adjusted for comfortable operation.
Daily maintenance possible without tools
Preventive maintenance to protect the machine can be carried out anywhere.
Self-cleaning air filters and optional cyclone pre-filter
Long machine service life and good life cycle costs.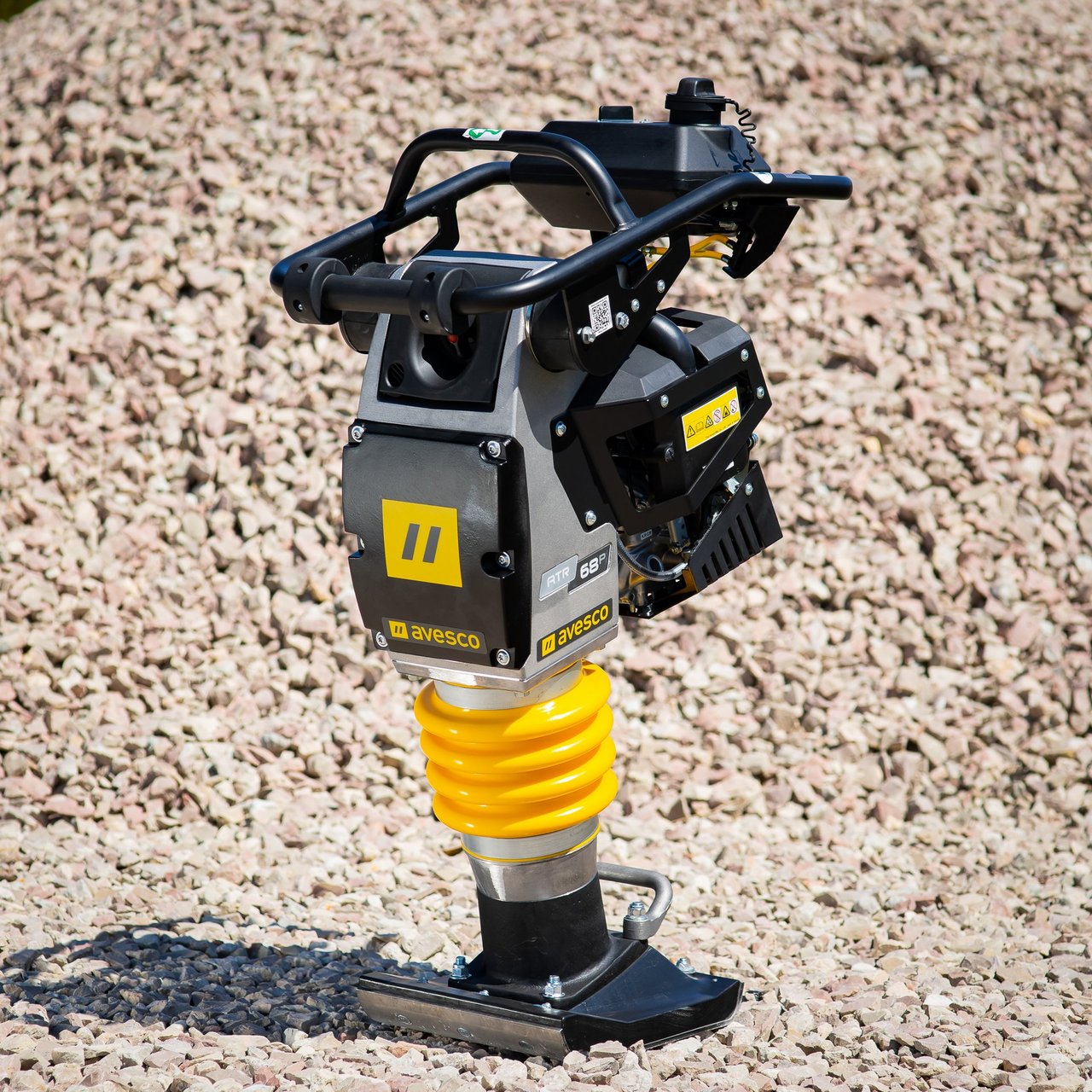 BUILT TO MEET THE HIGHEST STANDARDS
WEIGHT: 68 kg
FOOT WIDTH: 280 mm
MAX. CENTRIFUGAL FORCE: 13 kN
Best-in-class drive
Voluminous air filter with self-cleaning feature that when combined with optional cyclone pre-filter
Sure-grip, vibration-insulated guide handle for fatigue-free operation
Patented height reduction of approximately 10 cm using adapter plate option
Standard corrosion-free fuel tank
Standard 280 mm foot, with seven sizes available including an asymmetric option for compaction along walls and curbs
Powerful and robust single-spring system
Easily accessible recoil starter
Throttle adjustment with automatic idle
Robust crank drive
Wear-resistant ramming shoe with integrated steel plate
Additional rollers and grips for easy loading and unloading
For more information about Avesco light compaction equipment, please contact our representatives