Avesco APR reversible vibratory plates
HANDLE IS THE KEY TO MACHINE'S SUCCESS


—
Quality and productivity are prerequisites for construction machines. Avesco machines offer both and stand out
through ease of operation, too. Numerous options ensure all customers have the ideal machine for their needs.
What characterises light compaction equipment from Avesco?
Powerful machines
High compaction forces deliver the best compaction results.
Optimised base plate
Design enables higher speed and therefore faster coverage; rear is thicker for long life and cost efficiency.
Hydraulic forward and reverse drive
Provides simple and precise machine control even in confined spaces.
Optional paving pad
For careful work on paving blocks.
Low-vibration guide handle
Industry-leading HAV values below 2.5 m/sec2 protect operator and eliminate need for time-consuming record keeping.
Open guide handle
Optimises manoeuvrability and prevents damage.
Central single-point suspension
Enhances safety through simple transport.
Low-wear exciter unit
Extended service intervals reduce customer service costs.
Simplified maintenance work
QR codes show proper maintenance in shortest time.
Water separator
Standard feature reduces jobsite downtime.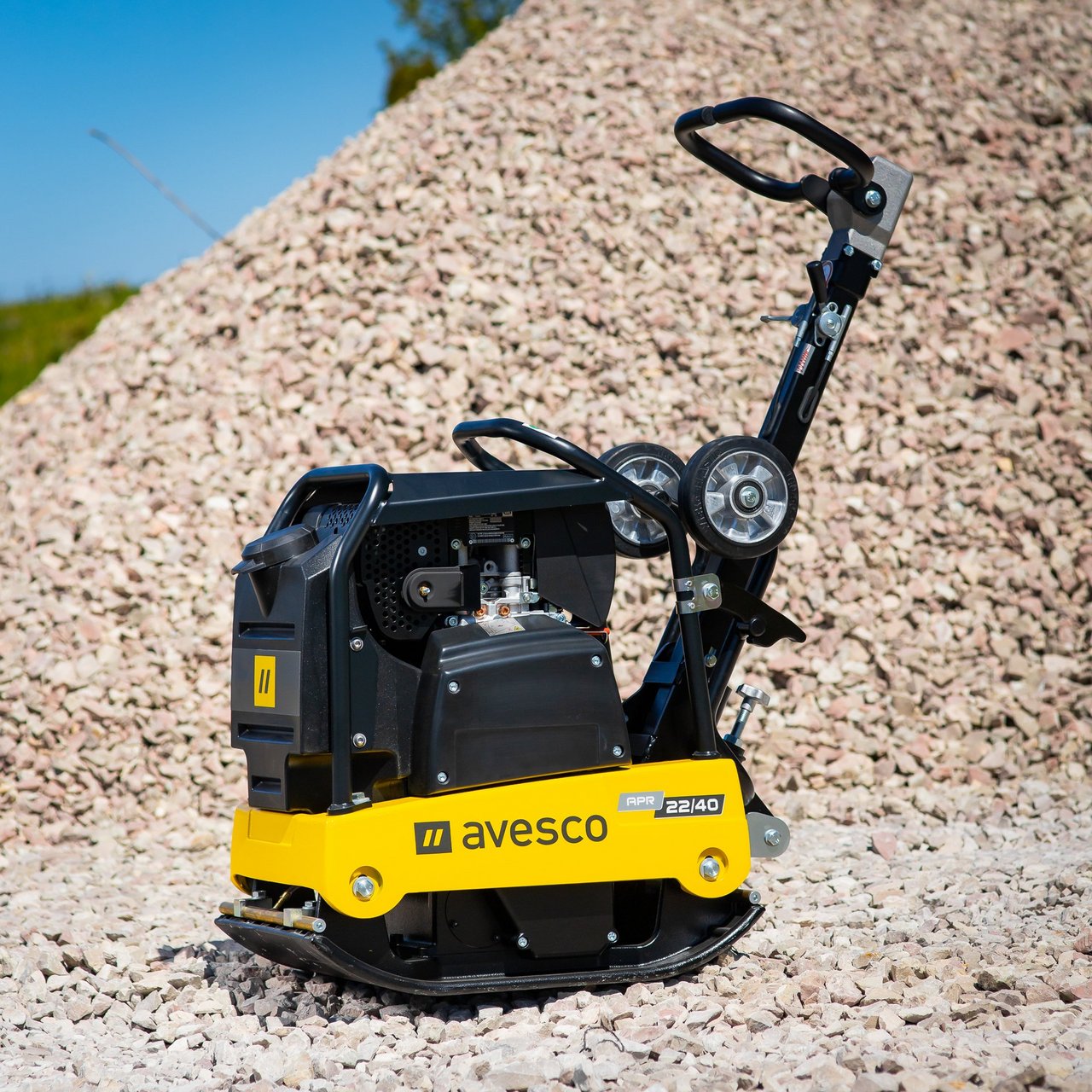 FAST WORKER AND A GOOD CLIMBER
WEIGHT: 118 kg
MAX. VIBRATING FREQUENCY: 98 Hz
MAX. CENTRIFUGAL FORCE: 22 kN
Operator friendly, safety-optimised guide handle that reduces HAV values below 2.5 m/sec2 and folds for easy transport
Infinitely adjustable hydraulic forward and reverse drive including spot vibration for compacting especially demanding substrates
Simple ergonomic handling
Maintenance-friendly twin-shaft exciter with long service intervals and a long life-span
Wear-resistant, self-cleaning base plate
Well-protected, robust centrifugal clutch with wear-resistant V belt
Robust protective frame with central singlepoint suspension
Powerful petrol or diesel engine
Other options include a paving pad, hours-run meter and transport wheels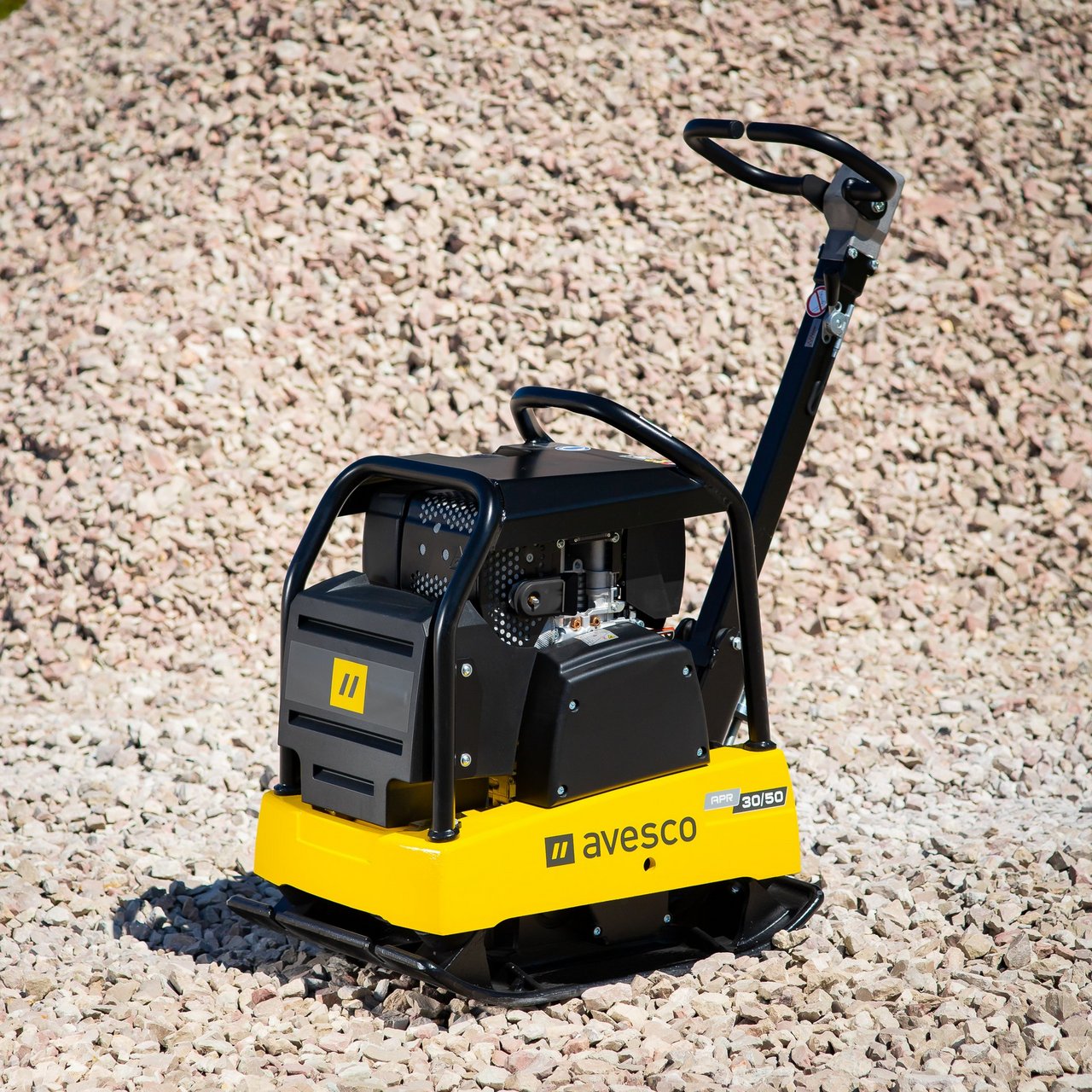 DESIGNED FOR HIGH PRODUCTIVITY
WEIGHT: 215kg
MAX. VIBRATING FREQUENCY: 90 Hz
MAX. CENTRIFUGAL FORCE: 20 kN
Operator friendly, safety-optimised guide handle that reduces HAV values below 2.5 m/sec2 and folds for easy transport
Infinitely adjustable hydraulic forward and reverse drive including spot vibration for compacting especially demanding substrates
Simple ergonomic handling
Maintenance-friendly twin-shaft exciter with long service intervals and a long life-span
Wear-resistant, self-cleaning base plate
Well-protected, robust centrifugal clutch with wear-resistant V belt
Robust protective frame with central single-point suspension
Powerful petrol or diesel engine
Other options include a paving pad, hours-run meter and transport wheels
An electric starter is available for machines powered by a Hatz diesel engine
For more information about Avesco light compaction equipment, please contact our representatives: