AVESCO AT HEAVY MACHINERY FAIR & CONFERENCE "HEMA 2022"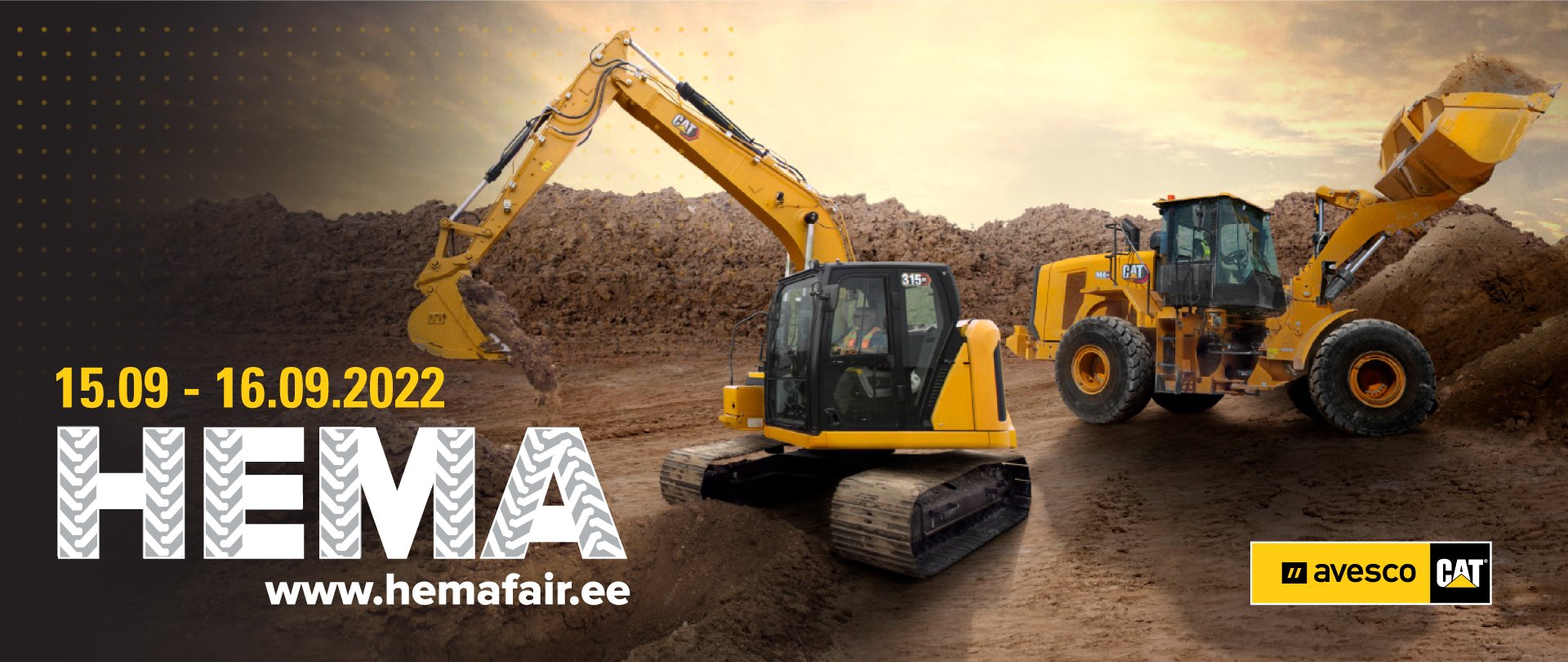 HEMA (Heavy Machinery Fair) - is the first heavy machinery fair and conference to be held in Estonia and the Baltic states!
The events to take place at the fair include machinery presentations, demonstrations and tests drives.
ON OUR STAND YOU WILL SEE - CAT® HIGLY VALUED NEXT GENERATION EXCAVATORS, BACKHOE LOADERS, DOZERS, PAVING MACHINES AND POWERFUL GENERATORS
You will be able to see the latest equipment, as well as learn about the services and solutions offered by Avesco.
Caterpillar experts and Avesco team will be happy to see you and to answer on your specific questions!
During exhibition will be organized conference where you will hear useful information from industry experts about
innovations,
industry transformations,
mining technologies,
recycling and many other topics.
We are glad to announce that Caterpillar mining industry expert
Cesar Virseda
will talk about Mining sustainability and electrification on the first day of the conference.
Don't miss that!
CONFERENCE PROGRAM




—
THURSDAY 15.09.2022
10.00 - Access to the fair area is opened
10.30 - Registration & coffee
11.00 - HEMA 2022 conference opening
11.15 - Welcome speech
11.30 - A green and secure Europe, the EU Green Deal in a (new) geopolitical situation - Dirk Fincke / European Aggregates Industry (UEPG), CEO
12.00 - Soil Stabilization Highway Rebuild Application Cold in Place Technology, Latest Developments - Mike Marshall / Wirtgen GmbH Germany
12.30 - Construction equipment market and trends - Alexandre Marchetta / CECE (Committee for European Construction Equipment), President
13.00 - Lunch
14.00 - Change is Here, Industry in Transformation - Fredrik Tjernström / Volvo Construction Equipment AB, Electromobility Manager
14.30 - Mining technology. Mining sustainability and electrification - Cesar Virseda / Caterpillar Global Mining – Sales, Services and Technology Division
15.00 - Mining risks and safety - Lauri Kütt / Consumer Protection and Technical Regulatory Authority, Chief Specialist (mining)
15.30 - Key Success Factors when Implementing Mining Technology - Elen Toodu / Sandvik, Digital Mining Technologies
16.00 - End of the conference day
16.30 - Eesti Mäeselts Board election - Tennobert Haabu / EMS
19.30 - Beginning of the Gala-Dinner at Original Hotel Sokos Viru restaurant Merineitsi
FRIDAY 16.09.2022
10.00 - Access to the fair area is opened
10.30 - Registration & coffee
11.00 - Using hydrogen in IC engines - Allan Niidu, Tallinn University of Technologies
12.00 - Smart Attachments on heavy machines - Harri Mosona, Truckmaint OÜ
13.00 - Lunch
14.00 - Self driving military equipment - Janek Press / Milrem AS, Senior software engineer
14.30 - Tyres and undercarriage trends - Koenraad Vandermeersch / BKT, Technical Services Consultant
15.00 - Finding and training of heavy equipment drivers - Autosert
15.30 - Drones used to guide construction and quarry equipment - Rosen Petkov / Wingtra AG, Sales Manager Eastern Europe
16.00 - End of the conference
---

The Baltic Heavy Machinery fair is an event meant for anyone in the field.
Look for our yellow flags and impressive Cat equipment!
See you at HEMA!
—
New Hippodrome in Estonia, Saue municipality
Check the Waze
Thursday, 15.09.2022 / Friday, 16.09.2022
Time: 10.00 to 17.00
For more information please contact our representativeS:
---