How to choose backhoe loader
Over the last two decades, backhoe loaders have become the most popular machine for a variety of earthmoving, loading, hauling, and other jobs. Backhoe loaders are successfully used on construction sites, where they are the first to arrive and the last to leave. At the front of this machine there is a bucket with folding forks that are intended for loading/unloading, transportation, pushing, relief formation, and leveling works. The excavator equipment is located at the rear of the suspension, with the possibility of lateral displacement with respect to the longitudinal axis. In addition, there is a possibility to use additional accessories: digging buckets of various widths, leveling and profile buckets (including swiveling ones), earth drills, hydraulic hammers for concrete, etc.
The performance of a backhoe loader obviously depends on the features listed, but before you choose a backhoe loader, remember that you will have to keep it running at the work peaks, and not waste time repairing it or waiting for parts to arrive. Therefore, you must choose a backhoe loader by taking into consideration the brand's reliability and technical characteristics, such as performance, handling, workplace comfort, ease of maintenance, etc. Below let's discuss the criteria to consider when choosing this type of equipment, and examine new generation of Cat® backhoe loaders.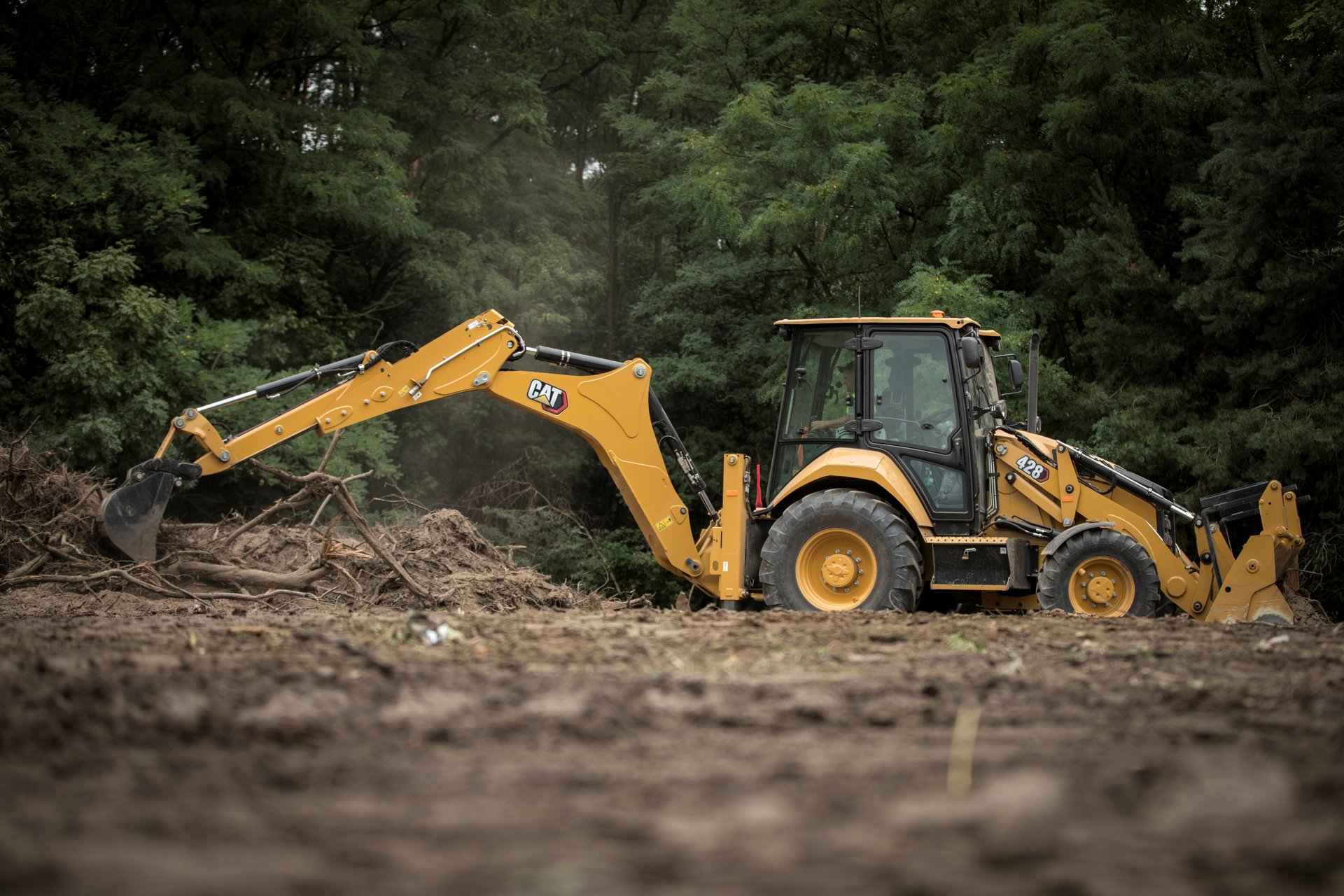 For the investment in equipment to pay off and not to incur additional costs, you should consider many important factors, and the main criterion for choosing a backhoe loader is its technical specification. The first thing you need to do is to set the parameters for the selection of the backhoe loader. Keep in mind and consider not only power, but also loading height, digging depth, and other criteria that are important for a variety of tasks. Knowing what you need, choose a backhoe loader model that meets those requirements. Remember also that the machine will not be able to run at maximum power all the time, and excess power and functionality translate to unreasonable costs. However, to work with multifunctional accessories, a backhoe loader requires 20-30% more power.
The demand for backhoe loaders in our country has created a corresponding supply of such equipment, so the next step you should take is to contact the sales representatives of such equipment suppliers and get the answers to the following questions:
How far from your company is the equipment servicing site located?
What experience do you have in servicing this type of equipment?
Are the necessary maintenance tools and spare parts (bearings, filters, etc.) stored onsite?
What is the shortest time possible to obtain the necessary spare parts?
How long is the warranty period? Is the warranty based on the hours worked?
If it is difficult for you to decide which backhoe loader might be the best choice, consult the professionals who sell this equipment and they will give you some really helpful advice. Having evaluated all factors, such as the operating technology of the backhoe loaders offered, the reliability of the service, and favorable financing conditions, you will be able to make the right decision.
PRICE AND FINANCING
In addition to power and functionality, one of the main criteria is price; therefore, you should compare the prices and sales conditions of different models. Backhoe loaders are not cheap. What's more, the financial resources of manufacturing companies are often constrained, i.e. today, it is rare for a company to be free to make use of large financial resources. In this case, you will have to seek additional sources of credit. One such source is equipment dealers. For example, construction equipment manufacturer Caterpillar provides "Cat Financial" services in all Baltic countries. These services are provided to customers on sufficiently flexible terms, where theequipment, warranty service, maintenance, and financial solution can all be obtained from one source.
Cat® Backhoe Loaders Overview
Among the Cat® backhoe loaders that have been operating in Baltic countries for more than a decade, there are models with the same or different wheel sizes, and with mechanical control or joysticks. These machines are reliable on any terrain and can access places that are often hard to reach. These are high-quality, convenient, fast, and modern backhoe loaders that greatly facilitate the performance of tasks. Thanks to the curved main boom, you will easily recognize this backhoe loader from its rear. Compared to other models, the curved boom shape significantly increases the accessibility of the loading and unloading area. The curved boom facilitates excavation works, for example, behind low fences, hedges, etc.
Caterpillar offers four new backhoe loader models for our market, designed and built to meet today's needs: Cat® 428, 432, 434 and 444. These new machines replace the 428F2, 432F2, 434F2 and 444F2 models, respectively. The new range is equipped with powerful diesel engines, and a modern transmission and hydraulic system that performs additional functions as the load changes.
What is new about Cat 428, 432, 434 and 444 backhoe loaders with a new indexing?
"First of all, we pay attention to the modernized operator control system, which includes analog devices and a color LCD display. The new series' advanced security system locks the engine, transmission, and hydraulic system until the operator enters a password on the screen. Optionally, models 428 and 434 are available with joystick control. In models 432 and 444, the joysticks are built into the seats and provide the operator with greater control comfort," said Mindaugas Lapienis, "Avesco" BCP manager for Baltic countries
Currently the most popular on the market are backhoe loaders with smaller front wheels, i.e. the 428 and 432. No less famous are the 434 and 444 models that ensure best-in-class power and performance (with large uniform wheels). However, model 444 is particularly popular. All these models not only have different wheels, but also different maximum digging depths, lifting capacity, hydraulic power and, thanks to the all-wheel drive system, they ensure good maneuverability even in extremely tight areas.
It is common that some confined places are difficult to access with a backhoe loader. On the Cat® 434 and 444 models, the manufacturer has significantly increased maneuverability, and the operator can use 3 control modes: normal with two front wheels, all four wheels, and crab steering. Crab steering is the lateral movement of a backhoe loader that requires both pairs of wheels to be turned in one direction. This mode of movement seems simple, but its quality and precise implementation are very complex and only available on backhoe loaders developed by leading manufacturers. For the loader to move in all-wheel drive mode, Caterpillar has used the most sophisticated kinematic scheme.
Cat® diesel engines embody all the distinctive features of the Cat® brand: reliability, economy, and excellent performance. These are the engines that not only use little fuel and run quietly but are also durable. The latest technologies used in their production ensure minimum fuel consumption and emissions into the atmosphere. These engines feature maintenance-free SCR selective catalytic reducer technology with exhaust gas cleaning fluid and DPF filter. With up to 10% less fuel consumption, this technology allows such backhoe loaders to meet Euro 5 environmental standards. This eco-mode makes it possible to reduce fuel consumption in less demanding tasks.
All four models use a 4-cylinder diesel engine Cat® C3.6, which meets Euro 5 standards. These engines use less fuel and emit less carbon dioxide. The manufacturer uses very sophisticated technologies for the production of motor feed systems, pumps, and injectors, so these parts work within very strict tolerances. Compared to the F2 series engine, the higher production requirements have reduced operating costs by up to 10%.
The Cat® transmission in modern backhoe loaders is a sophisticated system that determines the accuracy and quality of control as well as the maneuverability of the machine. All new-generation backhoe loader models are equipped with a standard four-wheel drive with rear axle differential lock, which increases traction, e.g. when driving on slippery or difficult roads and off-road. When driving the loader, the operator can choose from three modes: ECO, Standard or Standard Plus (increased efficiency), which maximizes the machine's performance and speed.
In the 432 model, the operator will appreciate easier gear change with the new Powershift transmission. The standard gearbox remains in the 428 models. As for the 444 and 434, they will continue to be equipped with a fully automatic transmission.
All new models feature a high-power variable displacement piston pump that allows for a perfect balance of power and operator needs, i.e. it provides constant hydraulic power and high speed when needed and ensures high fuel economy. With the help of an adjustable auxiliary flow, the machine's hydraulic system can be precisely adapted to any implement. To increase productivity, the new-generation Cat® backhoe loaders can be equipped with a quick coupler that allows you to quickly change the machine's working tool: a bucket, hydraulic hammer, rotator, asphalt milling machine, etc. Importantly, the new backhoe loaders are compatible with the accessories of the previous F2 series, so there is no need to buy new accessories.
Models 428 and 434 are available with new boom cylinders that increase boom lift and productivity by 25%.
Cat®backhoe loaders specifications:
| Model | 428 | 432 | 434 | 444 |
| --- | --- | --- | --- | --- |
| Engine | Cat C3.6 | Cat C3.6 | Cat C3.6 | Cat C3.6 |
| Maximum power, kW | 68 | 76 | 68 | 76 |
| Operating weight, kg | 8131 | 8322 | 9170 | 9462 |
| Lifting capacity, kg | 3488 | 3488 | 4303 | 4303 |
| Maximum lifting height, mm | 3463 | 3462 | 3518 | 3615 |
| Maximum digging depth, mm | 5700 | 6169 | 5748 | 6218 |
MODERN INTERIOR AND COMFORT OF OPERATOR CAB
The fully refurbished Cat® backhoe loader cab improves operator's working conditions and provides good visibility, excellent ergonomics, and a high level of comfort. As with previous models, the side windows of these loaders can be opened and locked in a position. Both cab doors may also be opened and locked. The rear window rises to the ceiling, thus ensuring comfortable operation and better visibility. The cab is equipped with climate control that automatically maintains the set temperature inside the cabin. This system has an additional powerful air conditioning element that ensures excellent ventilation and cooling of the cab when working at high outdoor temperatures.
Everything is well thought out and at hand, i.e. all machine controls are clearly visible and easily accessible from the operator's seat. Control system is equipped with analog automatic sensors, and the readings are visible on the color LCD display. The optional touchscreen allows operator not only to control the machine functions, but also to quickly change them with a soft key, e.g. the language, model control, or hydraulic control settings. When clicking the Menu button, the work mode pop-ups offer quick navigation between the information bar and icons in the address bar, and the full-text diagnostic descriptions make it easy to troubleshoot and maintain the machine.
Improved security system allows engine to be started only after entering the appropriate authentication password on the LCD display. When working in the dark, the headlights and rear lights are adjustable, i.e. the operator can provide maximum illumination of the work area by directing the light to the right spot.
Depending on the operating and local conditions, the operator can select ECO, Standard or Standard Plus power control mode. The ECO mode encompasses two concepts – the economic and ecological one. This mode helps to save fuel and reduce operating costs. The Standard Plus mode will provide more speed and power when it is required because of time constraints or difficult digging conditions.
The new operator seat is designed to allow switching from transport and work with the front bucket to working with the excavator at a single pressing of the handle. The seat in all models has air suspension. It is ergonomic and adapted to the sitting position that is most natural for a person and most favorable for the vertebrae of the spine and circulatory processes; it also causes the least tension. So, working full-time with a backhoe loader ensures high productivity but low fatigue.
A joystick is available as an option on the Cat® 428 and 434. The built-in controls of the new seat on the Cat® 432 and 444 give the operator more control.
All four Cat® models are equipped with the Cat Product LinkTM remote data monitoring system that allows you to remotely monitor your fleet and its performance and to collect data, e.g. fuel consumption, payload summaries, faults, set scheduled maintenance reminders, etc. With this information, you can optimize the operation of your machines, reduce downtime and operating costs, and increase overall operational productivity.
CONVENIENT SERVICE AND MAINTENANCE
Convenient service increases productivity and shortens maintenance time. Maintenance is required to keep the backhoe loader in good condition during operation. Operators are the ones who spend the most time with this machine. They are the first to notice problems and can therefore help prevent serious breakdowns. The operator must check the machine daily to prevent loosening of fasteners, fuel, coolant, and oil leaks, and accumulation of dirt and other deposits that could cause malfunctions, accidents, or even fires, e.g. an oil leak from the cylinder is not only an environmental problem. Continuing to operate such a cylinder draws dust and dirt in, thus quickly contaminating the entire hydraulic system. Then, instead of a simple repair, it is necessary to wash the entire hydraulic system and repair various system components.
To reduce service downtime, convenient access to essential control, service, and maintenance points is necessary. Reduced wear on components and assemblies is achieved through periodic preventive maintenance, that extends lifetime of a machine. Cat® backhoe loader has easy access to perform servicing of this machine. The new, easy-to-open bonnet provides access to all inspection and refill points, the air filter, the windscreen washer fluid reservoir, and other components.
Daily maintenance includes:
checking leaks; fuel, oil coolant and hydraulic fluid levels, and refilling if necessary
checking electrical system for any frayed or disconnected wires
manual lubrication of the main, auxiliary and telescopic boom as well as individual friction parts of buckets
Lifting the bonnet makes it easy to:
Check and top up the engine oil
Quickly clean or replace the engine air filter
Inspect the cooling radiators and inspect and refill the liquid up to the required level
Easily replace fuel, engine, and hydraulic filters
Perform other repairs and maintenance.