LONG REACH EXCAVATORS - FOR YOUR MOST CHALLENGING PROJECTS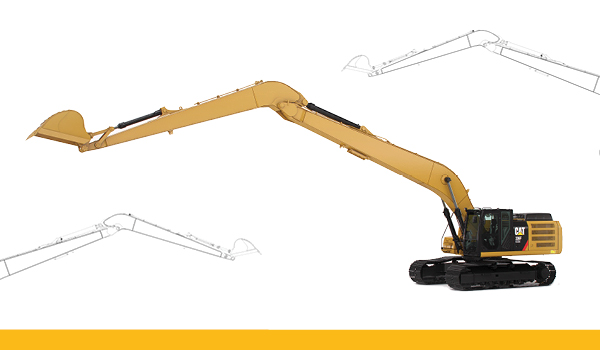 Get the job done in tough, hard-to-reach places with Cat® long reach excavators
—
Cat Long Reach Excavation Hydraulic Excavators are built to keep your production numbers up and your owning and operating costs down. Not only does the machine's ACERT engine meet EU Stage IV emission standards, but it does so while giving you all the power, fuel efficiency, and reliability you need to succeed. Where the real power comes in is through the hydraulic system. You can literally move tons of material all day long with a great deal of speed and precision. When you add in a quiet operator environment that keeps you comfortable and productive, service points that make your routine maintenance easy, and multiple Cat work tools that help you take on a variety of jobs, you simply won't find better Long Reach Excavation machines.
New generation long reach excavators are using 2D automated systems that are already factory-installed. What it can benefit you and your business?
Maximize accuracy of each work, each project
Less operator fatique, thus productivity is increasing
Automated 2D or 3D system with a help of slope-reading option is reading project easily and helps form slopes, as well as other ground/digging works
Integrated scales / payload system to boost your productivity level
E-walls and e-floors/ceilings means advanced safety standards
3D automated systems can be installed locally - please contact your local Cat dealership
Besides advantages of 2D/3D automated systems, Cat long reach excavators stand out from the rest long reach excavators in the market thanks to the following advantages:
Powerful hydraulics provides optimal ratio between productifity and effectiveness
20% less fuel consumption (comparing to the previous models of Cat long reach excavators)
15% lower owning costs, thanks to prolonged maintenance intervals
Unmatched Cat equipment reliability helps use machine longer period of time, which means more work done
Cat dealer has big prefessional technicians team, which responds to our customers in a record time and reaches our customers all overt the country
Cat Financial leasing services offer customer flexible financial plans to purchase Cat new and used equipment
Please contact Avesco sales representative, who will help to:
choose the right model for the jobs and projects you are running,
explain all the benefits of unique Cat long reach excavators in more details
provide information about Cat Financial leasing services.
Reach out Avesco sales representative for more information.