NEXT GENERATION CAT® MINI EXCAVATORS

BIG MACHINE FEATURES IN OUR SMALLEST MODELS
—
We are pleased to present the first 1-2 tonne, 2,7-6 tonne and 7-10 tonne models of the Next generation Cat® mini excavators. These fast and maneuverable machines with smart features and advanced technologies that were inherited from larger Cat track-type excavators are already changing the jobsite rules.
These machines are built from scratch, and you, Our Customers, have been involved in their development. Your opinion and wishes have helped us to create machines that will help you achieve good results in everyday work and solve your business challenges. The high-performance machines are not only affordable but they boast improved servicing, comfort and control.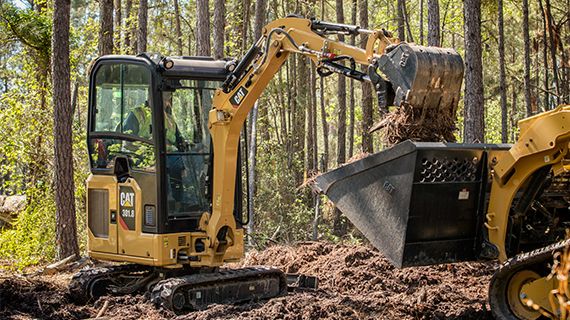 1–2 TONNE MODELS
—
Working in small spaces has never been so easy or so comfartable
The new model range allows customers expanded choices for matching machine capabilities and machine features to the applications: 301.6 (1.5-ton class, standard tail swing, with cab); 301.8 (1.8-ton class, standard tail swing, with either canopy or cab); 302 CR (2.0-ton class, compact radius, with either canopy or cab).
SAVE TIME AND MONEY
The total ownership cost of these models is up to 15% less than previous models.
The cabs tilt on these models, making it easier, quicker and cheaper to service the machines.
The 1-2 tonne models come with:
stick steer for comfortable control
LCD monitor with Bluetooth radio
air conditioning option on 301.8 and 302 CR
cruise control for hands-free travel.
1-2 Tonne NEXT GENERATION MODELS RANGE
—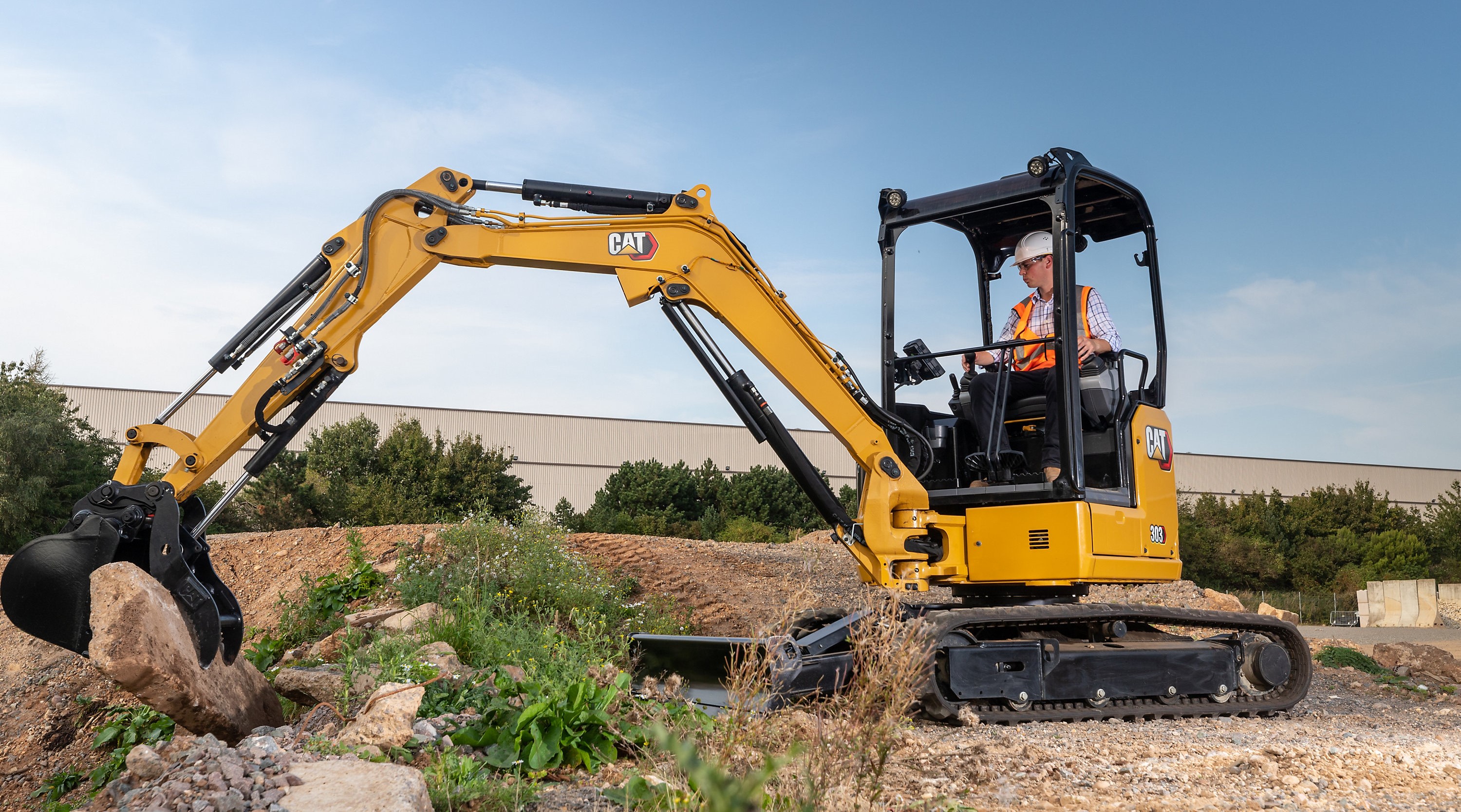 2,7-6 TONNE MODELS
—
Boosting operating efficiency, servicing ease and operator comfort
Built on the Next Generation platform that offers consistent operator experience through the 1.5- to 10-ton range, each new model features exclusive stick steer, cruise control, operator adjustable settings, and tilt-up canopy or cab as standard equipment.
Design enhancements for the new 302.7 CR, 303 CR and 303.5 CR deliver up to 10% more performance in travel and trenching. Hydraulic system upgrades improve lifting performance and cycle times, while customizable operator settings improve efficiency.
The new model line-up includes a compact radius model with a swing boom 306 CR.
LOWER COST, INCREASE EFFICIENCY
Expanded use of common parts throughout the line plus the sturdy exterior design help reduce parts inventory investment and lower repair costs. Daily maintenance checks are quickly made from ground level through side doors, while the tilt-up cab design offers unmatched access to components for servicing. Increased service intervals mean these excavators spend more time on the job and less time in the workshop. Combined, these features lower total ownership costs up to 5% compared to previous models.
The 2,7-6 tonne models come with:
enhanced machine security options, with both a passcode and Bluetooth® key
advanced touchscreen
industry-exclusive Cat Stick Steer System
can be equipped with heating and/or air conditioning
2,7-6 TONNE NEXT GENERATION MODELS RANGE
—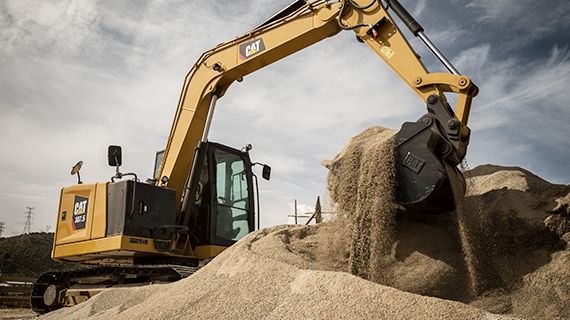 7-10 TONNE MODELS
—
Optimum value for the customer in terms of performance, operator experience, serviceability, and affordability
The new model line-up includes a compact radius model with a swing boom 308 CR, featuring a variable angle (two-piece) swing boom; 308 CR VAB, a new model in the mini range featuring a compact radius, swing boom, and "high flow" auxiliary hydraulics 309 CR, 309 CR VAB, which expands the 309 CR's capability with a variable angle boom and 310, also new to the range, featuring a fixed boom, standard tail swing, and twin blade cylinders for handling heavy duty dozing chores.
MORE FUNCTIONS, LESS MONEY
With enhanced lift strength, swing options, travel power and functions, these models are hugely versatile. Extended service intervals provide a 10% saving
compared to previous models.
The 7-10 tonne models come with:
High Flow* for hydraulic power you can customise
Stick steer for comfortable control
LCD monitor with Bluetooth radio

Cruise control for hands-free travel.
7-10 TONNE NEXT GENERATION MODELS RANGE
—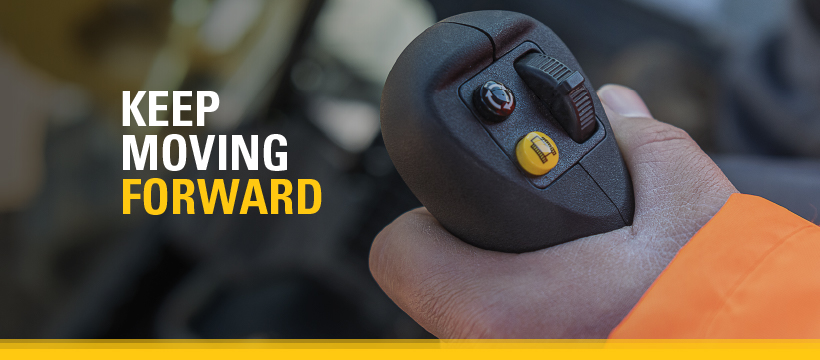 COMFORT AND CONTROL
—
Putting the control in your hands, joystick and cruise control make manoeuvring, positioning and travelling in your excavator easier and faster. You can start the machine with the push of a button thanks to a Bluetooth‑enabled key.
Stick Steer - Power In Your Hands
Stick steer makes long days and repetitive tasks in the cab so much more comfortable. For the first time, you can choose to control the machine using just the stick steer. Simply press a button to take control away from the pedals and levers. You can control the machine just like a skid steer loader using the left-hand joystick. With the right-hand joystick you can control the dozer blade, or the boom and stick function.
Cruise Control - Travel In Comfort
Travel in comfort when you choose cruise control mode. You can set the cruise control by pressing a trigger underneath the joystick – perfect for moving the machine across a large open site. You no longer have to put up with backache or sore wrists at the end of the day from hunching over levers.
Aircon - Stay Cool
Work in luxury through the long, hot days with cool, clean air con. You can control the air con and the heating through the LCD monitor to make sure your cab stays at a temperature to suit you. The sealed, pressurised cab design keeps dust out and cool air in.
LCD Monitors - Total Control
Receive calls, listen to music and track your performance in one place. Use the monitor to check your key stats, including performance and fuel efficiency. You can also receive calls through the monitor while you work, and adjust the temperature in the cab. Bluetooth means you can turn up the radio or stream your own playlists.
HIGH PERFORMANCE
—
Multifunctional and versatile, the new range of mini excavators are best in their class for productivity and performance. You can lift and place objects safely and accurately with two-point machine lifting plus adjustable hydraulics and speed settings. A larger engine with boosted horsepower delivers up to 20% more performance, without compromising your fuel efficiency.
Key factors affecting productivity:
Personalized control unit settings: Your machine will be adapted to your working style, aggressiveness, speed
High flow* function
Shorter duty cycle
Increased digging depth
Track extension function to increase machine stability (1-2 tons models)
Avesco Baltics offers a 2 years of warranty for all new Mini Excavators models, without moto hours limit. It is possible to purchase extended warranty up to 5 years**.
*High flow allows best in class work tool performance with a second dedicated auxiliary pump for hydromechanical work tools. The feature is ideal for land management and mulching applications.
**For more information, please contact us directly.
Interested in New Generation Cat mini excavator or have more questions?
Please contact us: